Karachi, which was once the ancient humble abode of the Sindhi fishermen, is now a thriving urban economy that sustains the country with its great seaports. Always up and running, the roads of Karachi are a cacophony of colorful buses, eager people and the infectious energy of its day to day hustle. But are there any attractions here that will make you forget all the chaos? Yes! And I have gathered some of them for you.
Churna Island and the Water Sports
For all those who love the sea Churna Island, which is only a two-hour drive away from central Karachi, is a must visit. Here you can swim, snorkel and scuba dive about the island's reef and gaze at a multitude of sea creatures, from fishes to snakes and turtles that inhabit the warm waters.
Turtle Spotting at the Turtle Beach
Not only is the winter season an amazing time to visit Karachi because of its mild cold weather, but additionally also because it is the time when you can spot turtles at Turtle Beach. This beach is home to green sea turtles that come out to lay their eggs in the sands. You can also spend your day here and enjoy the sand, sun, and water!
Explore the Ruins at Bhambore
The prehistoric city of Bhambore dates all the way back to the 1st century BC and was assembled during the Scytho-Parthian era. Later, from 8th to the 13th century, it was dominated by Muslims before being abandoned to date. The ruins and one of the earliest known mosques in the world, dating back to 727 AD, can still be found here.
Shop at Empress Market
Empress Market is a picturesque yet chaotic market that sells everything and anything. It is a great attraction to visit early in the morning in order to avoid rush hour. All possible groceries, live animals and pets, textiles, stationery and many other things can be bought in the foyers and interiors of this colonial-era structure. The building is named after the then Empress of India, Queen Victoria.
Enjoy a Dinner at Port Grand
Being amongst the few upscale open-air food establishments by the sea, Port Grand is a great place to try diverse cuisines that are offered by many of its eateries and parlors, all the while viewing the sun as it sets into the ocean.
Enjoy A Sunset at Do Darya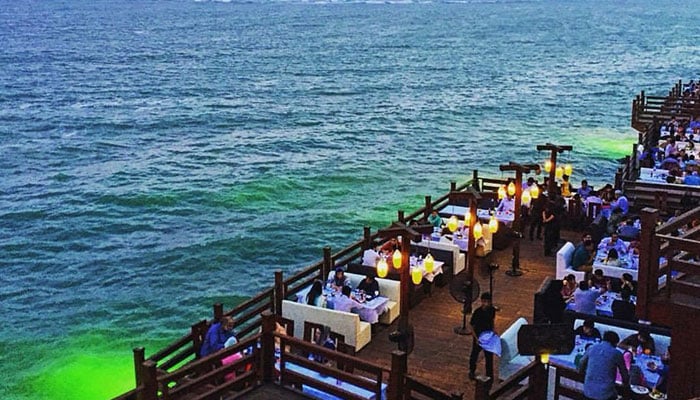 Do Darya is a local food lover's paradise, built right along the seashore. There are many restaurants and cafes here to choose from, serving all kinds of fare.
Visit Cape Monze Beach
Cape Monze, or Mount, as it is locally known as, is a beach near Karachi which is surrounded by a hill where people can climb and get a great view of the horizon and the dark blue sea. It is also home to endangered species like dolphins, whales, and turtles.
Play Golf at Arabian Sea Country Club
For a quick getaway from the city center, head to this golf course and sports club to try your hand at shooting or give horseback riding a go. Other amenities include cricket, squash, tennis, snooker, and swimming.
Take a Stroll in Ibn-e-Qasim Park
Set on 130 acres of land, this huge yet enthralling park is the biggest in the city and is visited by more than 10 million people each year. There is also a turtle pond and a rose garden found within its gates.
Visit the Chaukhandi Tombs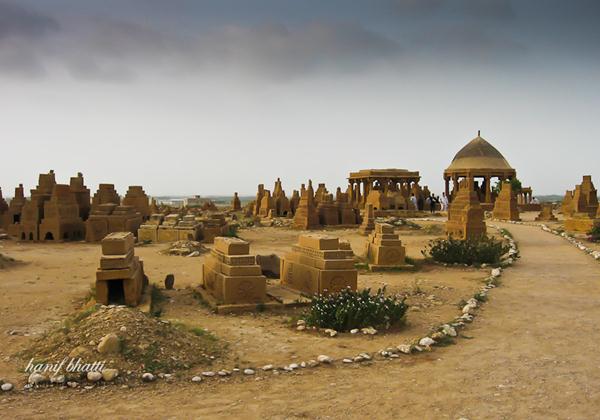 History lovers will go gaga when they visit this ancient graveyard and UNESCO World Heritage Site that houses tombs of the patriarchs of a local tribe. The elaborate make of these graves is its most attention-grabbing feature with carvings and designs typical of its region, Sindh. The origins of this necropolis are estimated to range between the 15th and 18th century.